Shopping Cart
Your Cart is Empty
There was an error with PayPal
Click here to try again
Thank you for your business!
You should be receiving an order confirmation from Paypal shortly.
Exit Shopping Cart
Toward sustainable agrosystems and preserved ecosystems
We got two papers accepted related to our GrassAlt project aiming at determining grassland responses to drought!
Schenkel et al. (2019) https://onlinelibrary.wiley.com/doi/full/10.1111/1462-2920.14599
Buttler et al. (2019) https://www.sciencedirect.com/science/article/pii/S0038071719300343

My paper entitled "Stoichiometric NP flexibility and mycorrhizal symbiosis favour plant resistance against drought" published in Journal of Ecology has been highly commended for the Harper Prize 2017. To better explain the findings of this paper that I wrote with Alberto Canarini and Feike Dijkstra, I prepared a video podcast for the Journal of Ecology Blog that you can watch here:
Check out our new paper published in Trends in Ecology and Evolution entitled: 'Plant-Soil Feedback: Bridging Natural and Agricultural Sciences'. This manuscript is the result of an organized session at the EcoSummit conference in Montpellier, France (from 29 August 2016 to 1 September 2016), sponsored by the Special Interest Group 'Plant, Soils, Ecosystems' from the British Ecological Society. 
In this paper, we aimed at bridging knowledge on plant-soil feedback between natural and agricultural sciences and propose solutions to both improve the productivity and sustainability of agricultural systems and promote biodiversity and ecosystem functioning in natural systems.
Happy reading!
Get in touch if you want to talk about it.
My paper published in the last issue of Journal of Ecology has been selected as Editor's Choice! It is a great reward for all the work done during my postdoctoral research at The University of Sydney. Of course nothing could have been done without my two amazing colleagues, friends and co-authors Prof. Feike Dijkstra and Dr. Alberto Canarini.
Apparently my paper entitled 'Subordinate plant species impact on soil microbial communities and ecosystem functioning in grasslands: Findings from a removal experiment' and published in 2013 in Perspectives in Plant Ecology, Evolution and Systematics is one of the 5 most cited papers till June 2016.
Thank you Editors for sending this award just in time for Christmas. And thanks to my co-auhtors who helped making this article interesting to you readers.
Merry Christmas and Happy New Year!
Happy New Year 2016!
This new year starts for me with two papers just published in Perspectives in Plant Ecology, Evolutions and Systematics and Rangeland Ecology & Management. The first paper, which highlights the spatial segregation of subordinate species with traits comparison with the dominant species, results from a great collaboration with my Brazilian colleagues (and friends) working on the role of subordinate plant species in tropical ecosystems. I really enjoyed working with them and would love to visit them in Brazil (maybe this year?). The second paper was co-led by two amazing student researchers (Julie and Jared) from UC Berkeley during my postdoctoral research in California. For this experiment we collected cow dungs in the field and tested seed dispersal of invasive and introduced plant species by cattle.
Thanks to all the collaborators for these two great papers!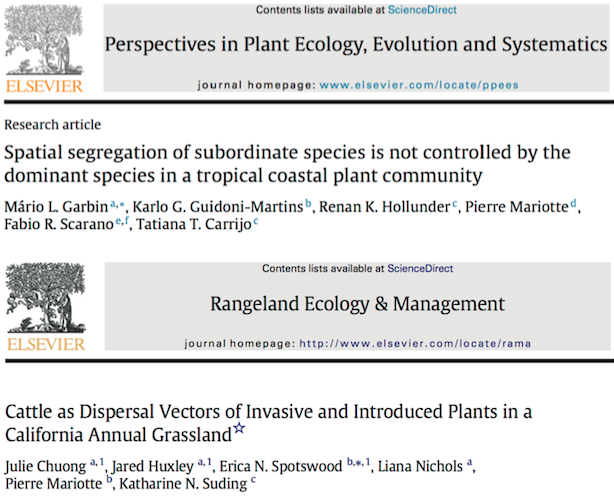 New blog post in Journal of Applied Ecology: Here!
Associate Editor Paul Kardol discusses a paper recently accepted about the role of subordinate species in sustaining the complexity and stability of soil food webs in natural bamboo forest ecosystems by Shao et al. 
In this nice blog post, Paul is citing my research on subordinate species with the "subordinate insurance hypothesis" (Mariotte 2014) and highlight the importance of better studying the interactions between subordinate species and soil microbial communities, which are expected to maintain soil ecosystem functions, especially under climate change perturbations (Mariotte et al. 2015). I am happy to see that other researchers become more and more interested in studying the effects of these low abundant species which might have disproportionate effects on ecosystem functioning.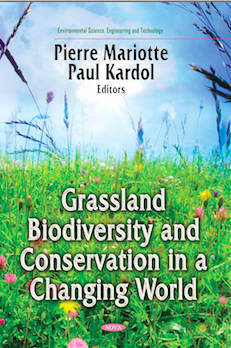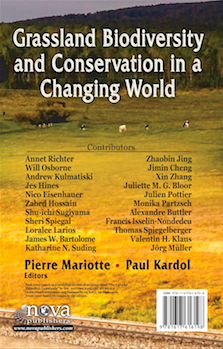 The book I edited with Paul Kardol entitled "Grassland Biodiversity and Conservation in a Changing World" is now available in Amazon. I am really happy to see it finished. I thank all the authors who contributed in the 10 chapters and also Paul for his invaluable help during the editing process.
Let's buy it now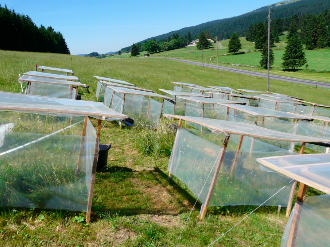 After so much work in the field, this is done! The paper on my drought experiment is published in the last issue 101:3 of Journal of Ecology. Many thanks to people who collaborated with me on this project.
Read the last issue of Journal of Ecology - March 2013 - Volume 101, Issue 2 Special Feature Plant-Soil Feedbacks in a changing world, in which I collaborated.
/